ENGINEERING TECHNOLOGY


Engineering/Advanced Manufacturing virtual meetings
Attend a virtual meeting - ask questions and learn about the Engineering/Advanced Manufacturing programs, the enrollment process, spring courses, financial aid and deadlines. To register, email or (904) 276-6893.
TUESDAY–NOVEMBER 2
3:30 - 4:30 p.m.
WEDNESDAY–NOVEMBER 3
6:00 - 7:00 p.m.
THURSDAY–NOVEMBER 4
Noon - 1:00 p.m.
TUESDAY-NOVEMBER 9
4:00- 5:00 p.m.
Fast Track AS to BS in Engineering
Information Session (Oct. 21, 2021, 4 p.m. to 7 p.m.)
Fast Track AS to BS in Engineering, in partnership with St. Johns River State College and Putnam County High School. Join info session anytime that works for your schedule and get the answers you need!
Virtual Event information
Manufacturing Prep Accelerated Program
Hurry! Seating is limited!
Application deadline is October 20, 2021.
Registration form
Parental Consent form
For more information, contact or (904) 276-6893
WHAT: MPAP prepares you for the Certified Production Technician 4.0 (CPT) designation with a combination of hands-on exercises and instructor training. Topics covered are: Safety, Quality Practices and Measurement, Manufacturing Processes and Production, and Maintenance Awareness.

Students also earn OSHA 10 and First Aid/CPR/AED credentials. Those who pass the CPT certification exams earn 15 credits (one semester) toward the Associate of Science degree in Engineering Technology degree. Additionally, participants will make valuable connections with regional employers and receive general career assistance.

WHERE: The program will take place at St. Johns River State College's Orange Park campus.

WHEN: Courses are set to begin in October and run through April 2022. Classes will take place Monday - Thursday, 1:00 - 3:00 p.m. Some online work will be done at home or at the college computer lab.

WHO: Open to U.S. citizens, eligible non-citizens; 18 years old or older who are interested in working in the manufacturing field and who meet program admission requirements. Seating is limited. Eligible participants will be enrolled at no-cost on a first-come, first-served basis through support from St. Johns River State College and the State of Florida, Department of Economic Opportunity.

WHY: This short-term training program connects participants with local firms and quickly increases their employability for positions in manufacturing production and quality assurance.

Sponsored by St. Johns River State College and the State of Florida, Department of Economic Opportunity through Florida Jobs Growth Grant (G0022).
The purpose of this program is to prepare students for employment in advanced manufacturing as process and production technicians, industrial machinery mechanics, quality assurance technicians, programmable logic control technicians and operators, and industrial engineering technicians.

The program focuses on broad, transferable skills and stresses understanding and demonstration of the following elements of engineering technology and industrial applications: production materials and processes, quality, electronics, mechanics, robotics applications, hydraulics/pneumatics, instrumentation and safety. Laboratory investigations benefit all students by developing the skills required to manage, operate, calibrate, and troubleshoot equipment and tools used to make observations.

Questions? Call (904) 276-6893
Program Details
Location: The technical courses will be offered at the Palatka and Orange Park campuses.
General education courses are available on all campuses and online.

Tuition and Fees: See Catalog

ENGINEERING TECHNOLOGY 4300 - A.S. Degree
Program Requirements: See Catalog
Program Plan-Course Rotation: (Excel) (PDF)

ENGINEERING TECHNOLOGY SUPPORT SPECIALIST 4302 - College Credit Certificate
Program Requirements: See Catalog

MECHATRONICS 4301- College Credit Certificate
Program Requirements: See Catalog

ROBOTICS AND SIMULATION TECHNICIAN 4128 - College Credit Certificate
Program Requirements: See Catalog

Certified Production Technician Training Program
This 80-hour contact course focuses on the core skills and knowledge needed by production workers in advanced manufacturing work environments. The course prepares participants to take the four Manufacturing Skill Standards Council (MSSC) Certified Production Technician (CPT) certification examinations. Each participant is provided with access to online learning materials and trains in a state of the art production simulation lab located on the Palatka campus.

Topics covered:
Workplace essentials
Safety Awareness
Production and Processes
Maintenance Awareness
Quality

Up to 15 college credits may be awarded toward the Engineering Technology A.S. degree for passage of the CPT exams. This is equivalent to one full-time semester of college.

Classes are scheduled to meet industry demand.

FLEET READINESS CENTER SOUTHEAST APPRENTICESHIP PROGRAM
The program serves as a model college-industry partnership.
Apprentices attend college courses at St. Johns River State College, and on the job training at Naval Air Station (NAS) Jacksonville. Upon completion of the program, students will earn a college credit certificate in Engineering Technology Support Specialist.
The apprentice program involves four (4) years of intensive training in one of the below skilled trades:
Machinists
Sheet Metal Mechanics
Aircraft Mechanics
Aircraft Electricians
Pneudraulic System Mechanics
Electronics Mechanics
Painters
Upon being selected for the Program, apprentices are hired into permanent, full-time Federal Civil Service (Civilian) positions associated with maintenance and repair of military aircraft.
Questions? Call (904) 276-6893
Job Outlook / Salary

Career Coach is designed to help you find a good career by providing the most current local data on wages, employment, job postings, and associated education and training. Visit the Career Coach website.

Career prospects for ENGINEERING TECHNOLOGY 4300 - A.S. Degree: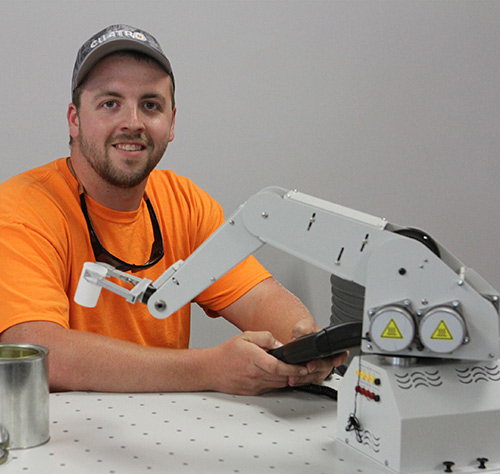 John Murrow, 24, once thought he might become a mechanic, but his path shifted and it led him to employment at Georgia-Pacific and enrollment in the engineering program at St. Johns River State College (SJR State). Murrow has wholeheartedly embraced this shift, since he believes that life's plans often change for good reason.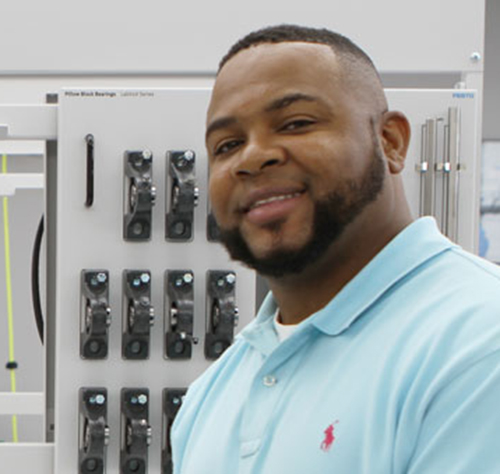 Donnie earned a college credit certificate as an Engineering Technology Support Specialist and is working on his A.S. degree.
Tyler recently completed the Manufacturing Prep Accelerated Program (MPAP) and is now employed with a local vacuum technology plant.
"I enjoy the machinery and the precision of the instruments and equipment. I'd rather hold a wrench than a pen, because I like that mental to physical problem solving."