PRESS RELEASE: NOVEMBER 3, 2023
SJR State Volleyball team ends season with accolades
Gianna San Filippo
Lauren Herz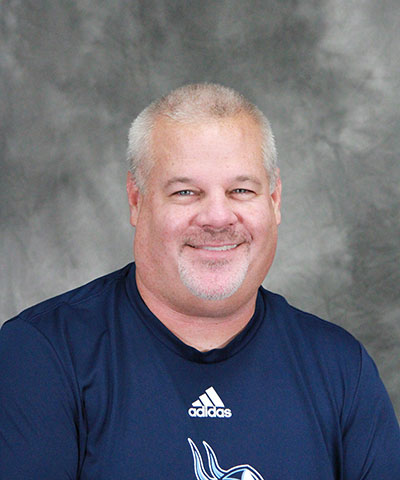 Bill Bonham
PALATKA, FL (November 3, 2023) - The St. Johns River State College Vikings volleyball team finished its regular season with two players earning All-Conference teams honors and a spot in the NJCAA Region 8 District Tournament on November 3. The team completed their season with the most wins and winning percentage in school history by a first-year coach.

According to head coach Bill Bonham, the Vikings' regular season record is now 24-12.

During the Sun Lakes Conference state tournament banquet held at Palm Beach State College on Thursday, two SJR State players received honors for their performances during the 2023 season.

Freshman libero Lauren Herz (Peoria, IL) earned a spot on the 2nd Team list.

Sophomore middle blocker Gianna San Filippo (Tampa, FL) earned a 1st Team selection. Due to her efforts on both offense and defense, San Filippo was also honored on the All-FCSAA /All-NJCAA Region 8 team.

Bonham said San Filippo not only put up great numbers during conference play, but was also productive throughout the season with a very tough schedule nationally. "With big wins over teams like Richard Bland (defending National Champs), Walters State, Spartanburg Methodist (twice) and Owens, San Filippo managed to finish the season with a conference best .294 hitting percentage and .296 success rate during the entire season. That mark placed her 2nd overall in Region 8, and 44/500 at the national level," Bonham said.

As for kills, San Filippo finished 3rd in Region 8 with 285 on the year. "However, San Filippo didn't just produce on offense, perhaps her defense is what boosted her to the top of the voter's ballots," Bonham said. San Filippo proved to be just that as she finished the season with 38 solo blocks in conference play and 92 in Region 8, both putting her on the top of those perspective lists. Her mark of 92 total solo blocks also placed her 3rd in the nation in that category. As for total blocks combined, San Filippo finished 1st in Region 8 with 120 total blocks, while she put up 51 total blocks just in conference play, which placed her 2nd in the Sun Lakes Conference.

"While the SJR State Vikings volleyball team enjoyed a fun and exciting season, there is no doubt the team defense led the way. In addition to the numbers San Filippo put up in the front row, the hustle in the back row from Lauren Herz was just as exciting," Bonham said. "The freshman libero definitely left her mark not only in the Vikings lineup, but within the conference as well."

While being named the Sun Lakes Conference Defensive Player of the Week twice this season, Herz had quite the rookie season. With a league leading 36 digs against Gulf Coast, she made the "25 Dig Club" on 4 occasions, with 25 (Richard Bland & Santa Fe) and 31 against Lurleen B. Wallace. With those efforts, Lauren compiled 240 digs in conference play (2nd) and 638 total on the season, which placed her 1st in Region 8 and 15th in the nation. She averaged 4.80 per set in the conference and 4.91 on the season, which made her 3rd in both the conference and Region 8 standings.

Herz also tallied the most service receptions in Region 8 with 741 total attempts. On the other side of the line, Lauren finished the season with 42 service aces which was good enough to put her 3rd in Region 8 as well.

Since 1958, St. Johns River State College has built a solid reputation as a full-service college dedicated to meeting the educational and workforce training needs of its Northeast Florida district. With campuses in Orange Park, Palatka and St. Augustine, SJR State is truly the community's college. SJR State's volleyball, softball and baseball teams are located on the Palatka Campus.
SJR State Vikings volleyball team photo



RECENT STORIES