PRESS RELEASE: SEPTEMBER 21, 2023
FloArts presents "Wait Until Dark"
Florida School of the Arts students Eric Barnum and Jordan Fletcher rehearse for the cat-and-mouse thriller "Wait Until Dark." The show runs September 29 – October 1.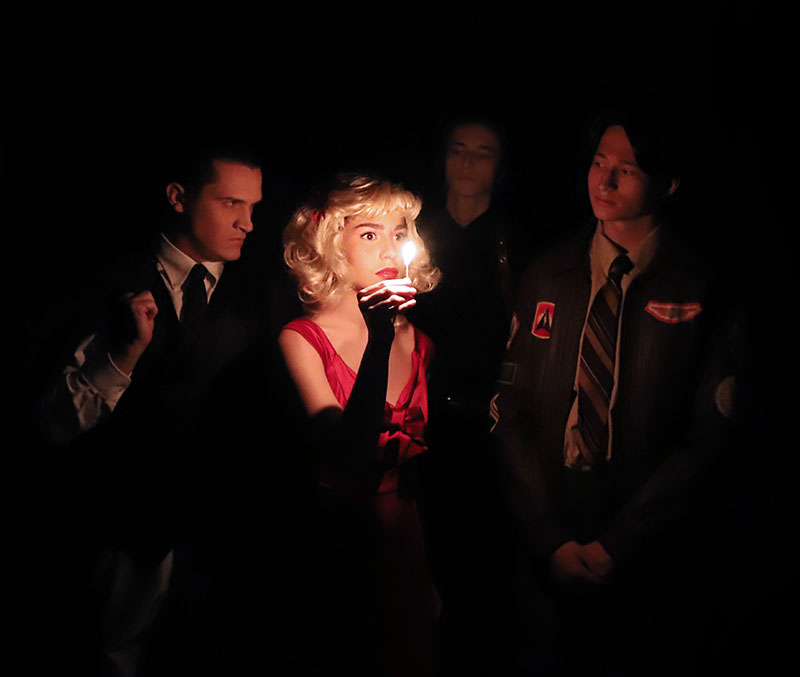 Florida School of the Arts presents the cat-and-mouse thriller "Wait Until Dark" September 29 – October 1.
From left are Eric Barnum, Jordan Fletcher, Zachery Petron and Kris Olinsky.
Florida School of the Arts presents the masterfully created thriller, "Wait Until Dark," by Frederick Knott and adapted by Jeffrey Hatcher. The show runs September 29 – October 1 in the FloArts black box theater. Friday and Saturday evening shows are 7:30 p.m., with a 2:30 p.m. matinee on Saturday and Sunday. Tickets are $10. Seating is limited - first-come, first-served. The box office opens one hour prior to showtime. The performance contains graphic violence, mild language and adult content. FloArts is located at the St. Johns River State College Palatka Campus.

The thriller begins when a blind housewife is unwittingly "gifted" a doll with diamonds hidden inside and becomes the target of three con-men searching for the doll. After killing his accomplices, the remaining con-man turns the evening into a cat-and-mouse game, where the play is performed in near total darkness as the two attempt to outsmart one another.

Debuting his first production at FloArts is new acting instructor and play director Ryan Mahannah. "The audience will get their money's worth just based on the combat, the suspense, and excitement - things they don't normally get to see happen on our stage," Mahannah said. "There is some good work being done by the students as well."

According to scenic and lighting design instructor Timothy Castell, the challenges of adapting the set to the school's smaller, black box studio presented a unique opportunity to make the play more immersive for the audience. "By placing the audience around the set on two sides, the hope is to create a space where the audience feels like they are in the same set of circumstances as the characters," Castell said. "As the scenic designer, I want the audience to feel some of the danger that the principle character finds herself in by placing them right in the room with her."

The cast includes: Jordan Fletcher as Susan, Kris Olinsky as Mike, LaMontiaz Slocumb as Sam, Zachery Petron as Carlino, Eric Barnum as Roat, and Lillian Johnson as Gloria.

Production crew: Ryan P. Mahannah, director; Sophie Willis, stage manager; Kendell Cheatham, assistant stage manager; Tiffany Jordan, costume designer; Tim Castell, scenic designer; Torrie Sanders, lighting/sound designer and properties master; Dianette Moore, assistant scenic designer; Wyatt Richardson, Assistant to the lighting designer; Dianette Moore, master electrician; Lourdes Acosta-Bados, paint charge; Sophia Willis, properties assistant; Wyatt Richardson, light board operator; and Kaylah Perry, stage hand.

Scenic construction crew: Lourdes Acosta-Bados, Autumn Airey, Garrett Bleau, Jalen Hardy, Cassidy Heath, Farentino Lennox, Dianette Moore, Edwin Perez, Kaylah Perry, Javier Pinto, Wyatt Richardson, and Sophia Willis.

Mahannah is a South Florida native who is excited to return to Florida and join the faculty and students at FloArts. Most recently, Mahannah was the theatre arts program coordinator at State Fair Community College in Missouri, where he was recognized for excellence in direction and excellence in fight direction from the Kennedy Center American College Theatre Region V Festival. Mahannah has eight years of college teaching experience and has taught Acting and Directing all across the United States. He is a graduate of the University of Southern Mississippi, where he received his Master of Fine Arts in Theatre Performance. He received his BFA from Florida Atlantic University.

Florida School of the Arts is located on the St. Johns River State College Palatka Campus and serves the entire state of Florida. FloArts is part of the academic and administrative structure of SJR State and awards associate degrees in acting, dance performance, musical theater, stage management, theater technology, graphic design/new media and studio art. For more information, call (386) 312-4300 or visit FloArts.

RECENT STORIES