MAY 2023
MEET VALERIA!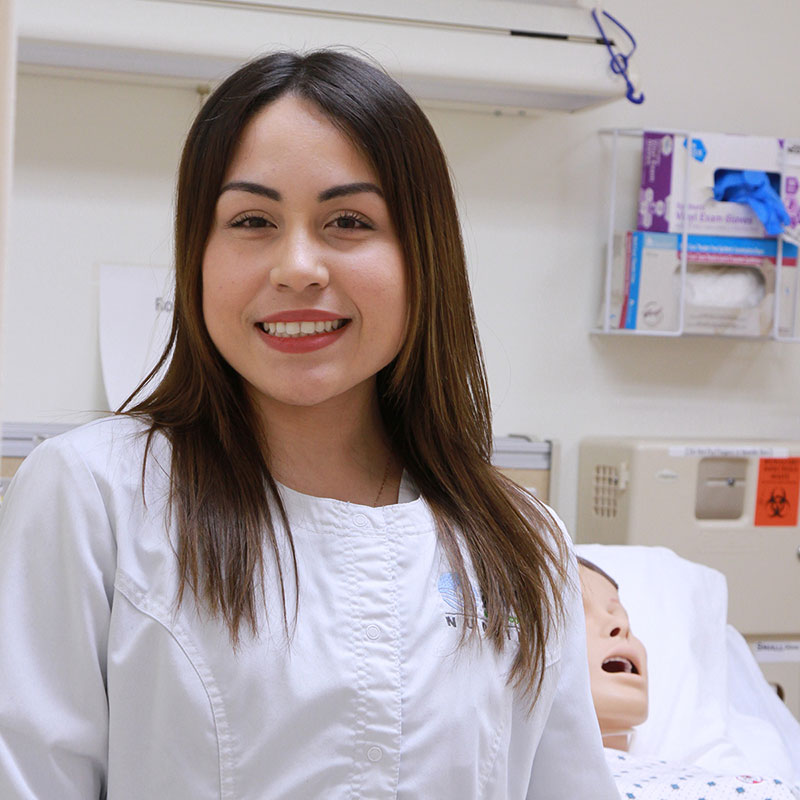 Valeria, 23, is completing her Associate in Science degree in Nursing after abruptly and courageously sharing her collegiate journey with stage 4 esophageal cancer. Determination is an understatement for this spring graduate who also found the strength to convert to Catholicism and plan a wedding while completing her studies.

VALERIA, WHAT INSPIRED YOU TO PURSUE A CAREER IN NURSING?
Growing up asthmatic… my grandmother was a nurse… and my current battle with cancer confirmed that this is my calling!

WHAT WAS YOUR CAREER BEFORE ENROLLING AT SJR STATE?
I was working as a CNA prior to starting fulltime at SJR State for my LPN and then RN.

WHY DID YOU CHOOSE SJR STATE?
It is close to home, and a lot of my high school classmates went there and recommended it to me.

HOW IS YOUR TRAINING BEST PREPARING YOU FOR THE WORKFORCE?
It's very intense, I'm either studying at home, doing sims and tests at school, or working clinicals.

WHAT DO YOU LIKE MOST ABOUT THE PROGRAM?
It is a small class, and I get to have a lot of face time with the instructors. The program itself helped me get started with the workforce scholarship and I've been able to use it for both my LPN and RN.

ARE THERE ANY PERSONAL STRUGGLES YOU WOULD LIKE TO INCLUDE?
Before I began the LPN to RN Bridge program, I had just been diagnosed with stage 4 cancer. I was at a crossroads whether it was time for me to start the program then or wait. I'm very glad I stayed. My professors were nothing but attentive and responsive if I ever needed to move tests up for my surgery or keep a good email thread if I wasn't able to grasp something as fast as before (chemo-brain is real!). On top of this, I got engaged and had my wedding on 3/25/23! My husband and I have gone through the RCIA program at Holy Family Catholic Church. Our first communion was this Easter!

I'm determined to graduate, but boy am I exhausted from studying, Catholicism, wedding planning, working, and going in for all my treatments. I must say thank you to all my professors, clinical adjuncts, and the college. They always cared for and motivated me, allowed me to move up tests or other due dates to be able to complete my treatments. Thank you, my heart cannot express how much you all mean to me.

WHAT WAS THE MOST VALUABLE THING YOU LEARNED ABOUT YOURSELF AS A STUDENT?
How resilient I am. I always thought myself to be a hard worker, but I honestly pulled so much more energy I didn't think I knew I had!

WHAT ADVICE WOULD YOU GIVE TO THOSE CONSIDERING THE PROGRAM?
Know you will be overworked and will have time for mainly only school. But, if you have a good support system, and this is your calling, there is nothing you can't do!

WHERE DO YOU SEE YOURSELF IN THE NEXT 10 YEARS?
I pray that in 10 years, I'll be healthy, happy, strong and furthering my future with more education. Hopefully I'll have a little mini version of myself! If anything, I just hope to inspire others to stay focused and know that they're worth so much more than they think.


MEDIA CONTACTS
Michelle Sjogren
Assistant Vice President for Institutional Advancement and Strategic Communications
(904) 276-6814

Susan Kessler
Director of Public Relations and Marketing
(386) 312-4021