MAY 2023
MEET AARON.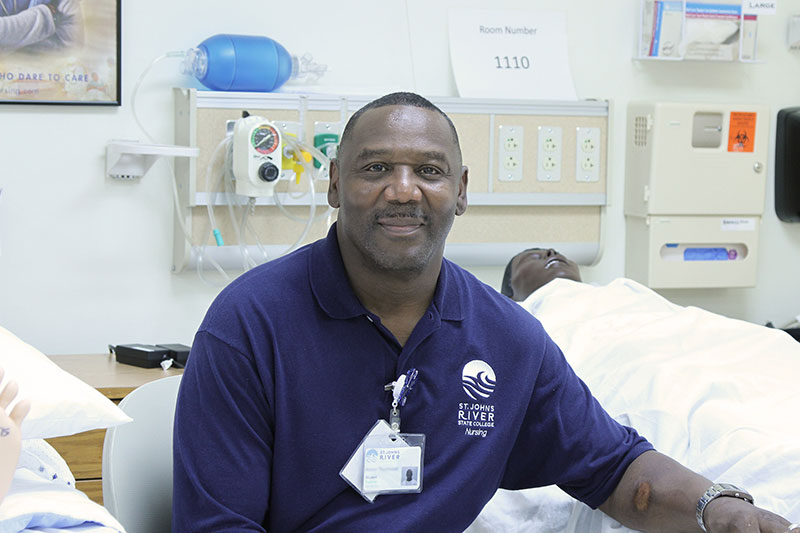 After serving 20 years in the United States Navy, Aaron Thurmond, 61, was ready to take his LPN to the next level. He enrolled in the LPN Bridge to ASN program at St. Johns River State College and turned his nursing certificate into an associate in science degree (RN). The motivation behind continuing his education was to learn more, do more (for the patients) and earn more.

AARON, WHAT WAS YOUR CAREER BEFORE THE NURSING PROGRAM?
I spent 20 years in the United States Navy as a hospital corpsman. I enjoyed taking care of the sailors and their dependents. I've always had that "wanting to help others" attitude as long as I can remember. When my recruiter told me I could work in the hospital if I enlisted in the Navy, I did not hesitate to sign up for the military service.

After retiring from the Navy, I was an LPN with Mayo Clinic, but then transferred to an assisted living facility to better manage my ASN classes with my work schedule.

WHAT INSPIRED YOU TO ADVANCE YOUR NURSING CAREER?
RNs have a more expanded range of practice than the LPNs. RNs can administer medications and perform diagnostic tests. RNs can also specialize in certain areas of the nursing field and command higher wages.

WHY DID YOU SELECT SJR STATE FOR YOUR TRAINING?
I heard positive reviews from coworkers who graduated from the SJR State nursing program, and it's conveniently close to my home.

WHAT DID YOU ENJOY MOST ABOUT YOUR TIME AT SJR STATE?
The help of the staff and the camaraderie of my classmates. My classmates looked up to me because of my age and experience in the medical field. The staff was very helpful - always cheering me on.

WHAT IS THE BIGGEST THING YOU HAVE LEARNED ABOUT YOURSELF AS A STUDENT?
No matter how difficult some of the topics were, I was able push myself, even when I wanted to give up.

WHAT WAS YOUR BIGGEST CHALLENGE DURING THE PROGRAM?
Trying to study and work full time.

WHAT ARE YOUR PLANS AFTER YOU GRADUATE?
Return to Mayo Clinic and work in dialysis, internal medicine or at the VA clinic.

WHAT IS YOUR ADVICE TO OTHERS WHO MAY BE CONSIDERING ENROLLING IN THIS PROGRAM?
Make sure you are willing to give 100% and you have the backing of your family.


MEDIA CONTACTS
Michelle Sjogren
Assistant Vice President for Institutional Advancement and Strategic Communications
(904) 276-6814

Susan Kessler
Director of Public Relations and Marketing
(386) 312-4021